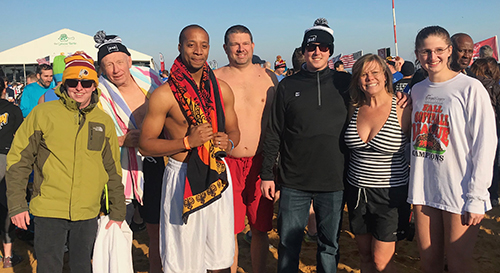 B&R Takes the Plunge for Special Olympics Maryland
Thursday, Feb 01, 2018
On most freezing winter days, employees at B&R just grab an extra cup of coffee to get through their day. This past Friday, January 26, however, B&R took a more invigorating approach to jump-start their weekend. Engineers, designers, marketing, and human resources plunged into the 36-degree waters of the Chesapeake Bay at Sandy Point State Park – all for Special Olympics Maryland.
B&R raised a total of $3,700.00 for Special Olympics Maryland. In total, the plunge raised over $2,400,000.00!
Special Olympics Maryland represents more than 6,500 athletes and supporters and provides year-round sports training and competition opportunities for children and adults with intellectual disabilities. Since the plunge started in 1997, it has raised more than $20 million for athletes and their programs all year long.